What is a
Snowdog

?
Snowdog is an innovative, versatile, and reliable machine designed to travel on the ice, on the snow, in the forests, in the fields, and in hard-to-reach places.
As a more affordable alternative to the snowmobile or all-terrain vehicle (ATV), Snowdog is tailored to hunters, trappers, ice fishermen and other outdoor enthusiasts. With a compact and highly versatile machine, the operator can sit comfortably in a sled with a plenty of space to carry gear and supplies. With a machine like Snowdog, hard work turns into a fun adventure.
Snowdog

vs Snowmobile / ATV
Affordable
1/3 the price of a snowmobile.
Safe
Max speed is limited to 20 mph (30 km/h).
Compact
Fits in the back of an SUV or a pickup truck, takes up minimal garage space.
Light
Only 286–440 lb. Very low ground pressure.
Powerful
The top power models of 14 hp haul up to 660 lb on snow.
Economical
Average fuel consumption is only 0.7 gal/h (41 mpg).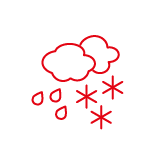 Versatile
Goes through deep snow, ice, grassy fields or forest trails.